RCTP

2019–2021



Biennium in Review
The following is a synopsis that highlights catalytic and impactful programming and investments associated with the 2019-2021 biennium of the Regional Cooperative Tourism Program.
What is RCTP?
Travel Oregon's Regional Cooperative Tourism Program (RCTP) dedicates 20% of the State's Transient Lodging Tax (TLT) into regional tourism programming and activities across the state. There are seven Regional Destination Management Organizations (RDMOs) that leverage state dollars generated by the TLT along with private and public resources to work with Travel Oregon to bolster the state's tourism economy. The RDMOs submit regional plans that include proposals for the use of state dollars for the RCTP which are approved by Travel Oregon based on specific metrics and accountability standards that govern the program.
Regional Strategic Tourism Management Plans for each of the RDMOs were developed in alignment with Travel Oregon's strategic planning process, RCTP Guidelines and extensive input from regional stakeholders.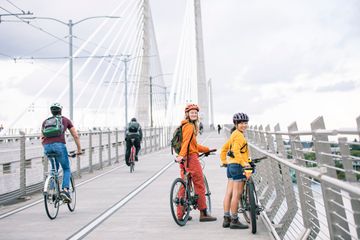 Image credit: Papersky Magazine
Featured Investments
The events of 2020 and 2021 presented incredible adversity to the people of Oregon and its tourism industry. Despite this, our RDMOs were able to adapt and find ways to continue supporting their communities.

Image credit: Travel Southern Oregon / Jak Wonderly
What's Next?
To learn more about the regions, what's happening now, what's planned for the 21-23 biennium and more—explore the Travel Oregon industry site at the link below.
Learn More