The Oregon Food Trails program, created by Travel Oregon, aims to cultivate innovative partnerships between culinary and agricultural businesses, strengthen local food economies and create unique experiences for visitors and locals alike. 
The objectives of the Oregon Food Trails program are to drive visitation to agricultural and culinary businesses in destinations that offer high-quality and locally sourced consumable products in a compelling way; deliver excellent visitor experiences by increasing business engagement and collaboration; inspire visitors to explore businesses that they might not find on their own; and encourage visitors to stay in destinations longer, visit in shoulder seasons and consider repeat visitation.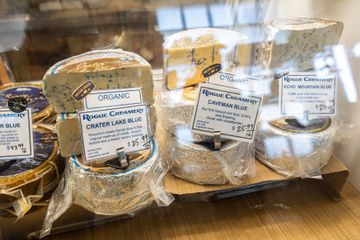 Goals
The Rogue Valley in Southern Oregon has long been a premiere agricultural producer in Oregon. With a national reputation for pear production and the world-famous Rogue Creamery in Central Point, culinary tourism has always been part of the visitor experience. When Travel Medford approached Travel Oregon and Travel Southern Oregon to apply for the creation of the Rogue Valley Food Trail (RVFT), the time was right to add a Southern Oregon trail to the state's already impressive food trail offerings.
The investment to create the RVFT initiated key partnerships to help accomplish the project. Travel Medford, Travel Southern Oregon and Travel Oregon partnered to bring a student from the University of Oregon's Resource Assistance for Rural Environments (RARE) program to the Rogue Valley. From initial interest meeting with agricultural producers, retailers, and hospitality and restaurateurs with Travel Oregon to managing business engagement workshops and working to create the themes and assets for the RVFT brochure, TSO's RARE placement was instrumental in creating the lasting relationships required for success.
Results
Ultimately more than 50 businesses from the communities of Ashland, Medford, Jacksonville, Grants Pass, Central Point and the Applegate Valley came together to create what is now the Rogue Valley Food Trail. With the Rogue Valley's unique growing climate and cultural heritage, the food trail highlights "healthy living" agritourism businesses working with lavender, honey and herbal products in addition to more traditional agritourism businesses like u-picks and farm stands. Additionally, highlighting famous agricultural standouts like Rogue Creamery and Harry & David help visitors immediately understand the level of quality of our Rogue Valley Food Trail partners.
Unfortunately, with the onset of COVID-19 TSO was unable to host an in-person event to launch the trail in the summer of 2020. However, the RDMO was able to generate a multitude of media stories, and demand for the initial printing of the RVFT brochure has been strong enough that more will be printed before the end of this year. Distribution of the brochure has been embraced by hotels, restaurants, and food retailers as well as our regional wine partners in their tasting rooms. When paired with Rogue Valley Wine Country, the Rogue Valley Food Trail completes the vision for visitors of the Rogue Valley as a truly stand-out culinary destination in Oregon.