Listening to feedback from regional partners and visitor centers about the changing needs of visitors, the Mt. Hood & Columbia River Gorge RDMO heard the call for a good regional visitor-facing map. Frontline hospitality partners use maps above any other resource for guests, and many of the options were outdated.
Mt. Hood & Columbia River Gorge RDMO revised the previously used "Infinity Loop" idea to build a visitor-friendly road trip map showcasing all the great things you can do in the region that are not typically at, or over capacity. The shape of the Infinity Loop works well because it hits all the communities in the region.
The goal of the map was to provide an updated tool that frontline staff could reference when talking to visitors and help shift visitation away from high use areas in the region to disperse visitation, maximizing economic impacts throughout the region.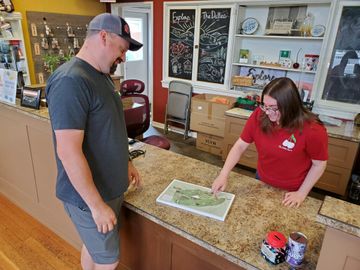 Development of the map was managed in house with the help of watercolor artist OrangePippin. Content for the map and the identification of target locations were determined with the help of local DMOs and other tourism partners in the region. Because the map was developed mid-pandemic, COVID-19 safety messaging was worked into the design.
The Infinity Loop Map was completed and printed in August 2020, but due to COVID-19, the region was not actively promoting visitation. As such, old collateral was swapped with the new Infinity Loop map at local visitors centers, and on the region's website. An official "launch" may occur in the future as the state reopens and travel promotion resumes.
Results
40,000 folded maps and 400 tear-off pad maps of 100 maps each were printed.
Approximately 16,000 folded maps were distributed.
Collateral requests for the map on the website were twice as much this fiscal year as the number of travel guide requests for the old collateral last fiscal year.
Media and Travel Trade have been interested in the Infinity Loop Map including one influencer who is scheduled to follow portions of the trail in summer 2021.