The devastating impact of the pandemic upon the travel industry meant that Travel Portland and the regional DMO partners had to find alternate ways to support industry partner businesses through the period of shutdowns and restrictions on business activity.
In the Portland Region, that meant shifting from an outward focus on driving travel demand and visitation from outside the market to driving local spending to help our retailers, restaurants and attractions weather the storm.
RCTP funds were deployed in several ways (between April 2020 and June 2021) to support this goal while being responsive to the clear needs of stakeholder businesses who were desperate to reach customers and recover lost sales.
Small Business Social Messaging
Travel Portland and partner organizations Prosper Portland, PDX SOS and the Portland Business Alliance launched multiple campaigns across Facebook and Instagram to promote spending locally downtown during the holiday shopping season.
$12,000 in RCTP funds covered the urgent need to ramp up social messaging is support of small businesses as the holiday shopping season approached. This priority aligned with statewide efforts to sustain small businesses through complementary programs such as the Built Oregon Marketplace.
"Here for Portland" campaign
Travel Portland and partner organizations Prosper Portland, the Portland Business Alliance and Downtown Portland Clean & Safe built upon the momentum created by the downtown holiday shopping campaign to launch a multi-platform recovery campaign intended to inspire continued support for small businesses and communicate the importance of individual and collective action to help our region's nascent recovery.
$10,000 in RCTP funds covered the cost of amplifying the "Here for Portland" video produced under the leadership of the Portland Business Alliance and North creative agency in partnership with Travel Portland and Prosper Portland. The investment helped increase the exposure and profile of the long-format video via YouTube plus a series of :06-:15 second spots. The Portland Business Alliance was recognized for this outstanding work with the Oregon Partnership Award at the Governor's Conference on Tourism in June 2021.
My People's Market
My People's Market is a marketplace that centers communities of color in a celebration of business, arts, and culture by prioritizing the well-being and comfort of people of color; providing space and resources for new and existing businesses to grow and reach new markets; and honoring local artists and performers for the vibrancy and joy they bring to space and place.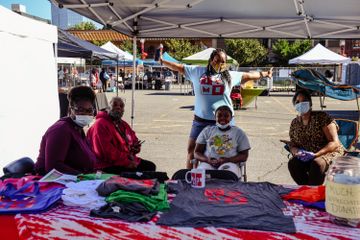 The first My People's Market was held in November 2017 and connected Portland creators of color with the travel industry and professionals who could help expand and scale their businesses. Due to the pandemic, My People's Market was forced to go virtual in 2020 and devise new methods for promoting vendors which led to a partnership with PDX Window Shop, a program co-founded by Portland Made and Makers Union PDX. BIPOC makers were featured from June 18- July 25 in the ground floor retail space of Prosper Portland's new 10Y building at SW 9th and SW Yamhill. Passersby are able to view items in the window and scan a QR code to make purchases or connect directly with sellers via the My People's Market virtual gallery.
$20,000 in RCTP funds were invested to help offset the cost of marketing for the virtual marketplace and to support the Window Shop PDX gallery. This work permits My People's Market and the participating vendors to remain connected to customers and the community and it will help drum up interest and support for the first in-person My People's Market to take place since the onset of the pandemic. It will take place August 6–8 in the North Park Blocks.
Results/Metrics