Travel changed in the blink of an eye around the world, hitting Central Oregon's vibrant tourism industry with a crushing force in March 2020. When stay-home orders were implemented by Gov. Kate Brown, Visit Central Oregon paused all paid marketing, cut non-essential spending, and made difficult staffing decisions to alleviate expenses.
Bracing for a devastating drop in TRT revenue, paring down operations was necessary in order to sustain the organization and allow for marketing the region when it was time to do so again. Additionally, knowing the challenges regional tourism businesses were facing due to the pandemic, Visit Central Oregon eliminated our conventional Membership Program.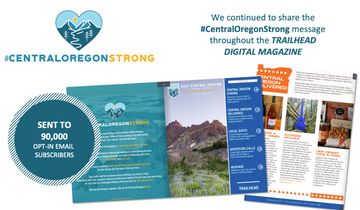 Visit Central Oregon continued to promote Central Oregon businesses without requesting any membership dollars. Through the Central Oregon Strong campaign, the RDMO moved forward by supporting regional tourism stakeholders through thoughtful and compelling content development, our multi-tiered marketing strategies, and collaborative co-opportunities.
Visit Central Oregon also shared its platforms with stakeholders to help get their voices heard at a time when restrictions were changing daily, and smaller businesses struggled to keep up communication with consumers. Through Instagram stories during the campaign from March-May 2020, twenty regional partners created videos sharing their hopeful messages of support, and how they were maneuvering through pandemic conditions to keep their services available to the Central Oregon community.